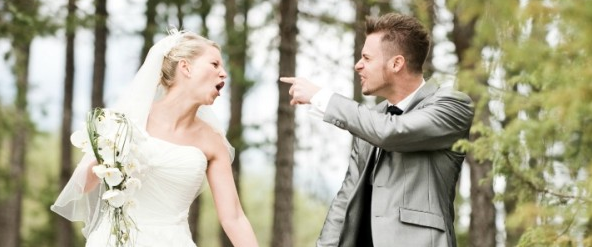 A woman dreams of her wedding day from the time she's a little girl. She may even have decided on her wedding gown before deciding on her groom! So needless to say, her wedding day will always be the most important day of her life. For a groom, his bride's happiness is all that matters and therefore the best weddings always have one thing in common – a couple that loves and respects each other. The wedding day is going to be stressful enough by itself. But you cannot ignore the fact that this special day is definitely going to stir up some family drama. So the best thing to do is to ready yourself to limit it and if you're lucky, maybe even avoid it altogether.
Here are a few tips to help you get through the most special day of your lives drama-free:
1. As a Couple:
Wedding planning will surely stress out even the most cool-headed couple and this planning by itself will test your relationship. Be sure to communicate with each other on all matters as this is what you will need to do for the rest of your lives together.
2. Important Decisions:
Besides your partner, you may wish to involve a third party in your decisions like your partner's or your parents, especially if they are paying for your wedding as well. Remember that it still is your wedding day, so don't be afraid to decline any suggestions that make you or your partner uncomfortable.
3. Emotional:
Do not let your emotions gain the upper hand as it mostly never ends positively. This involves your invitation cards: whether or not you add the parents' names on it. Don't feel forced to include their names in case they have been absent throughout your life or if there exists any other major issue.
4. Practicality:
Being practical while planning your wedding is most probably the most important thing you can do. Seating arrangements are important. You do not want your divorced parents or relatives sitting at the same table as that can never end well.
5. Communication:
Besides constantly communicating with your partner, you will have to consider all the related parties especially in situations like having divorced parents or a step dad. This may complicate simple traditions like, who will walk you down the aisle. Hence communication here is vital in order to eliminate any possible misunderstandings.
6. Support:
Since the focus of the wedding is you and your partner, your family needs to keep that in mind. While it is normal for a family member to dislike your partner, they should be reminded that misbehaving with your partner is not. Do not feel bad about excluding family members who amount to nothing but trouble. It is your wedding day and anybody who doesn't support or at least behave appropriately with you or your partner doesn't deserve to be included.
These tips will allow you to celebrate your fairytale wedding without any interference and drama from family members. Never has a wedding been able to take place without a little bit of family drama but as long as it is healthy and normal family drama, you don't need to stress.