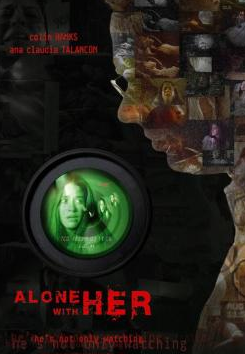 Alone With Her is an insight of what could go wrong if spy technology ends up in the hands of the wrong kinds of people. Voyeurism at some level is something humans may enjoy but how far is too far is what the movie depicts.
Starring Ana Claudia Talancon as Amy and Colin Hanks as Doug, Alone With Her premiered at Tribeca film festival in 2006 and it attracted varied responses from critics but the majority had the consensus that it was well acted.
The plot is developed around the 2 characters, Doug and Amy. Doug is a recluse who becomes obsessed with Amy after he sees her at the park grieving because she saw her ex-boyfriend kissing his new catch. Doug stalks Amy to her home and later gets the opportunity to break into her home where he installs a number of spy cameras and listening devices.
Doug is able to find out a lot about Amy including intimate details of her sex life as well as her past which he uses to worm his way into her life and become a "friend." He is able to influence things in her life and including making her lose her job. As he gets closer to her, her friend gets more suspicious of him and that eventually turns him into a monster who is a threat to the lives of anyone who may know his secret.
Alone with her unfolds through the lens of a camera as the director, Eric Nicholas takes the viewer into the lives of a spy victim and the voyeur who is so obsessed with his subject but is also very able to hide his true nature from his victim and appear as a charming individual with nothing but good intentions and she does not realize this until it is too late.
Unlike other thrillers, Alone With her manages to bring out a natural flow which does not seem too acted. Credit should be given to the 2 main actors for managing to bring that out and Collin Hawkins is able to switch between a charming individual to an obsessed stalker in his role as Doug. Critics reviews of the movie describe it as a tense psychological thriller with fine performances. This is testament to the powerful performances of the 2 main actors.
For someone who worries a lot about today's surge in spy gadgets and lack of true privacy, the movie is like a warning that their biggest fears can very easily come to reality. The level of engagement is quite high in this movie and it carries it on through the most part of the film.
For some people though who may have seen quite too many thrillers with a similar ending, the last 15 minutes of Alone with her may take on a rather predictable ending which is usually associated with thrillers and horror films. Some critic's reviews have pointed out the same thing, praising the performance but putting the last 15 minutes under the microscope and questioning if it should not have had a more creative ending.
But at the end of the 78 minutes, this is a movie you would not mind watching again and recommending to a friend.
Watch the Trailer